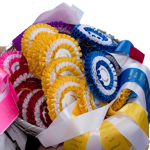 Two Fine art jurors with a wide range of experience and knowledgeable in all categories are chosen each year. Jurying starts at 10AM Saturday and the winners are awarded their checks and ribbons late Saturday afternoon.
2021 Judges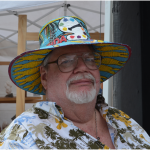 Bill Darrah

Mr Darrah has won over 1,600 awards for including:
Best of Show, New Smyrna Beach, 1999, 2001
Best of Show, Kissimmee Art Festival, 2000
Best of Show, Riverside Art Festival, 2002
Best of Show, Brooksville Art Show, isp
Best of Show, Manatee Art Festival, 2007
Best of Show, Artfest of Port Orange, 2009
Best of Show, Apopka Art and Foliage Festival, 2012 Award of Excellence, Port Orange Art Fest, 2012
Bill Darrah has completed portraits for:
Kenny Rogers
Barbara Mandrell
Henry Winkler
Hulk Hogan
President Jimmy Carter and others
Three articles have been featured in the Bradenton Herald
Permanent collections are displayed in Lake Wales, Florida; Sebring; Florida; Raleigh, North Carolina; Dayton, Ohio and Ocala, Florida.
Mr. Darrah's education:
Bachelor of Fine Arts Degree
Wright State University
Dayton, Ohio
One year at Dayton Art Institute School of Art Dayton, Ohio
He has judged many art shows including:
Lake Mary Heathrow
Osceola Art Festival, Kissimmee
Vero Beach, Under the Oaks
Venice Art League
Walt Disney World's Festival of the Masters
Mt. Dora Art Festival
Arts On the Park, Lakeland (2 shows)
Inverness Art Festival
Sarasota Art Association
Temple Terrace Arts Festival
Destin Arts Festival
Winter Park Autumn Art Festival
Art Works of Eau Gallie
Venice Art Festival
Lakeland Art Guild
Winter Springs Art Show
Ft Lauderdale Art Show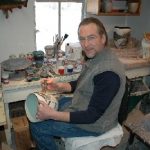 Mr. Patrick Dragon
The St. Johns River Festival of the Arts is pleased announce Mr. Patrick Dragon as one of our judges for this year's festival.
Patrick is from the upper peninsula of Michigan and has been living in Lakeland, Florida, for the past eight years teaching ceramics at Kathleen High School. There are many highlights in his career as an artist, one of which is being included in the first "White House Collection of American Crafts". He was also the first exchange artist traveling to Japan for a one man show and teaching his techniques to children and adults in Japan.
Patrick has a Bachelor Science in Visual Arts Education and Photography from Northern Michigan University, Marquette, Michigan. He has been published in a number of periodicals and has been a juror for many art festivals including Vero Beach Art Festival, American Craft Council, ACC, New York, Baltimore Show, Festival of the Masters, Disney, Orlando, Orlando Craft Expo, A.C.E. Chicago, Illinois.
He has permanent collections at City of Ann Arbor, City of Higashiomi, Japan, Kohler Arts Center, Wisconsin, Maitland Art Museum, Northern Michigan University to name a few.