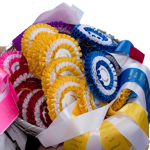 Two Fine art jurors with a wide range of experience and knowledgeable in all categories are chosen each year. Jurying starts at 10AM Saturday and the winners are awarded their checks and ribbons late Saturday afternoon.
__________________________________________________________________________________________________________________________________________________________________________________
2023 Judges

MICHELE TUEGEL
Michele's most recent entrepreneurial venture was Michele Tuegel Contemporary art gallery, which was located on Central Avenue in downtown St. Pete from 2012-2016, and featured work by both local and nationally-known artists in all fine art and craft media. Prior to the gallery, she was Media Relations and Arts Specialist for the Pinellas County Cultural Affairs Department, and the founding Executive Director of Florida Craftsmen, Inc. from 1986-2004, promoting the work of artists statewide. Michele received her BA and MFA in Printmaking and Papermaking from the University of South Florida, Tampa. She was awarded an Individual Artist Fellowship from the State of Florida in the late 80's, using that opportunity to study at Dieu Donne Paper Mill in New York City. She taught studio papermaking throughout Florida and at institutions like Arrowmont (TN), Haystack (ME), and Eckerd College. Tuegel has participated in more than 100 solo and group exhibitions, including invitationals such as "Paper as Medium," Smithsonian Institution; "Paper Today," USA TODAY Headquarters in Washington, DC; and "Paper: Finland/USA," an international traveling exhibition. Her work is in many corporate, museum and private collections. In 2002, she organized a cultural exchange exhibition with the University in San José, Costa Rica, and curated a national traveling exhibition in 2005, sponsored by FiberArts magazine, titled "Twist + Shout: The New Needle Arts." Tuegel served as a board member of the American Craft Council SE, and she continues to jury exhibitions, outdoor art festivals, plus mentor artists and lecture on the topics of contemporary art and fine craft.
Rick (Ralph) Austin
Rick (Ralph) Austin, is a semi retired 3-D artist, working beside his wife Iris as a collaborating team in the Jewelry, Metalsmithing, Mixed Media category's for over 23 years. Over 500 top  shows, from Miami Beach, to Virginia Beach. He is a self taught metalsmith, and stonecutter, faceting and cabochon, specializing in Australian Opal. With over 220 awards to include 7 best of shows. His passions also run to woodturning, ceramics, water colors, and lapidary arts. The passion for jewelry started when in the 1980s he was the lapidary instructor for The Central Florida Mineral and Gem Society in Orlando Fl. Also holding the position as President of this organization for 3 years. He currently resides in Inverness Florida with his wife Iris, and their cat Sterling.