Fest Facts
Discover Historic Downtown Sanford!
Description: An outdoor juried fine arts and fine crafts festival offering educational art demonstrations for visitors of all ages.
Location: The art festival is located in the heart of Downtown Historic Sanford, established in 1877. It is within walking distance of historic homes, museums, art galleries, restaurants and the Sanford River Walk along the shores of Lake Monroe and the St. Johns River.
Dates/Times: Saturday April 27, 2024 – 10:00am – 6:00pm and Sunday April 28, 2024 – 10:00am – 5:00pm
Free Admission.
Free Parking: Along nearby city and residential streets. For physical and sight challenged visitors – Wheelchair accessible curbs at main pedestrian crossings. Service dogs permitted. Designated parking for vehicles with handicap permit.
Anticipated attendance: Approximately 35,000 visitors over the two day Festival run.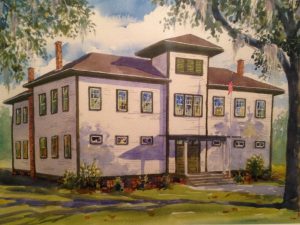 Education: As a non-profit 501C (3), we proudly sponsor our "Art-for-Kids" scholarship program designed to encourage an appreciation and understanding of the arts. Proceeds from the art festival provide art instruction and education to children in Seminole County regardless of their ability to pay, in a safe, full service art center located at the historic Hopper Academy building, 1101 Pine Avenue, Sanford FL.
Participating Artists: Over 170 acclaimed local, regional and national fine-arts and fine-crafts artists.
Artist Categories: Painting – oil, acrylic, watercolor; Fine Crafts – wood, glass, leather, basketry, fiber; Drawing – pastel, pen, ink; Digital – graphic, mixed media; and Sculpture; Jewelry; Clay; Photography.
General Rules – for visitors' comfort, safety and convenience: No pets, skateboards, rollerblades or coolers.
WI-FI access.
Eco-friendly environment: Waste containers with recycle-separation bins located conveniently throughout festival grounds.
Food and beverages: Contracted festival vendors.
Entertainment: Soft acoustical music artists perform throughout the festival footprint.
Volunteers: Our volunteers contribute valuable time to help before, during and after the event. Find out how you can volunteer. Join us! Click here!
Mail: PO Box 223, Sanford, FL 32772-0223
The mission of The St. Johns River Festival of the Arts in Historic Sanford, Florida is to enrich the quality of life in our community by cultivating an Arts and Cultural environment that offers venues to educate and stimulate the appreciation and advancement of both.
The St. Johns River Festival of the Arts in Historic Sanford, Florida is a non-profit 501 (c) (3) organization that raises money through sponsorships and donations. This event's target demographic is the affluent adult population, primarily in the metro Seminole County area.