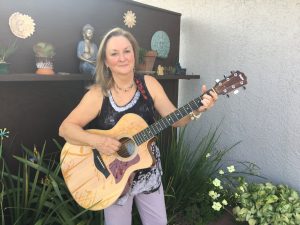 Sherry Farmer Strange
A Central FL resident since 1968, born in Atlanta, hails from a musical family with her Mother singing gospel in church choirs and on gospel radio in South Carolina as a teenager along with her Maternal Grandfather singing and playing a variety of stringed instruments playing contra and square dances in the South Carolina & Georgia area.
Musical influences in addition to those the family range from Motown, Rock, Folk, Jazz, R&B to Bluegrass. Sherry quietly composed songs and played guitar in her bedroom as a young girl and began playing in public as an opening act for local rock bands in her eary 20's, worked as a solo act performing easy listening folk & rock, a classic rock band or two along the way, played conventions for a number of years in a variety of bands, later fronting a jazz trio, joining a bluegrass fusion band and still maintaining some solo work as well.
"Sometimes it's just about the groove & the melody, sometimes it's the message or an interesting turn of a phrase or just telling a good story. Any way you look at it, I can't imagine my life without music in it. It's my happy place."