Seminole County Printmakers is a group made up of both professional and lay artists. It is our intention to provide Seminole County and central Florida with access to fine art printmaking. Our group will inform the community through examples of our quality fine art printmaking.
We plan to further our goal through education on the various processes in printmaking by offering workshops.
WHAT WE DO…
Relief Printing is a process consisting of cutting or etching a printing surface in such a way that all that remains of the original surface is the design to be printed. What follows is a list of the processes the Seminole County Printmakers specialize in.
Linoleum and Wood Cut Printing begins with a carving of a design cut into linoleum mounted on a block of wood, the linoleum is then inked and printed. Woodcut is done on soft wood and sealed before
Dry Point is a technique of engraving on copper, zinc or plexiglass, in which a sharp-pointed needle is used for producing furrows having a burr that is often retained in order to produce a print characterized by soft, velvety black lines.
Monotype is a single print taken from a design created in oil paint or printing ink on glass, metal or plexi-glass. This technique is verypainterly.
Solar Plate Etching is a simple approach and a safer alternative to traditional etching and relief printing. A solar plate is a prepared, light-sensitive polymer surface on a steel backing that an artist uses to produce fine prints.
Collagraph is a process in which a collage of materials is glued on to a "printing plate," which is rigid cardboard. When glue is dry, it is shellacked or varnished so that it can be inked and is then pressed into paper to produce a print.We will be offering workshops on these techniques in the fall, if you are interested, please consider join our mailing list (we promise not to spam you) to hear about the things we're doing.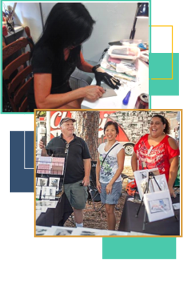 CONTACT US!
SeminolePrintmakers@gmail.com
Facebook @ Seminole County Printmakers
Seminolecountyprintmakers.blogspot.com