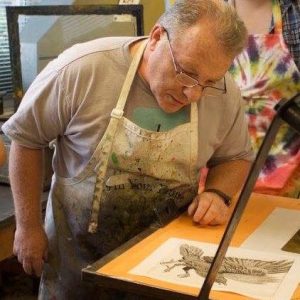 Larry Vienneau Jr. received a BFA in painting from University of Massachusetts Dartmouth in 1977 and MFA in Painting /Printmaking in 1981 from Southern Illinois University. After school he lived on Nantucket Island 1981-87 sold artwork in local galleries, taught printmaking and painting at the Nantucket Artist Association.
He briefly lived and exhibited in Hong Kong before he moved to Alaska and taught art at the University of Alaska Fairbanks from 1989-2001. In 2001-2006 he moved to Minnesota where he taught art at University of Minnesota, and Century College. He has illustrated several books on Native American Oral Traditions, the raven was one of the primary images used. He has exhibited in the USA, Canada, South America, Hong Kong, and Russia and won awards in national and international competitions.
His work is included in four museum collections including the Anchorage Museum of History and Art. He lives in Florida and continues to teach at Seminole State College. In 2017 he received the honor of being named The Seminole County Artist of the Year. He is also the founder and Chairman of Seminole County Printmakers.
The title of the artwork on poster is 'Florida Dinosaurs'.