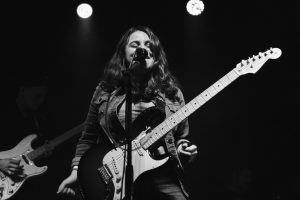 Cat Ridgeway is a skilled singer/songwriter from Orlando, FL known for her soulful vocals, high energy, and magnetic stage presence. Her latest release, 'Nice to Meet You,' has jumped up 59 spots to #66 on the Americana album chart and moved up to #8 on the Americana Bubblin' Up album chart (after staying at #10 for 3 weeks straight). Her leading single, "Giving You Up," has tied for #5 most-added Americana single, reached #6 on the Americana Bubblin' Up single chart, and moved up 129 spots to #71 on the Americana single chart. While these numbers may seem humble, they are quite impressive for an independent artist pitching to commercial radio for the very first time.
Cat recently caught the attention of hit songwriter Shawn Mullins (known for his 1998 chart-topper "Lullaby") and has since played shows and co-written with him. Cat also has shared bills with acts like Arcade Fire, Leon Bridges, Brandi Carlile, and Jason Isbell; and in 2016, indie rock duo Tegan and Sara personally selected Cat as the winner of their worldwide cover contest.
With a voice much bigger than she is, anywhere she plays, a buzz is sure to follow.