ART IN ACTION… "where the artistic process comes alive before your eyes"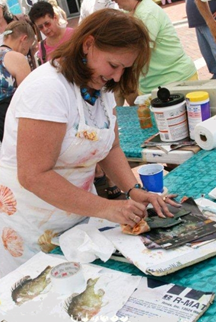 The St. Johns River Festival of the Arts is sure to be a feast for the soul and the senses. Fine Artists, craftsmen, guilds and art organizations in a vast array of disciplines are invited to demonstrate their artistic talents offering visitors an opportunity to observe their creative process first hand and a chance to interact with the artist. People are fascinated when artists and craftsmen openly demonstrate their skills and discuss their techniques. Demonstrations are sure to leave our visitors with inspiration and a deeper appreciation of the creative process for each medium. Artist demonstrations inspire creativity and significantly encourage purchases and commissions.
This year we will select a total of 6 featured demonstrating artists in such disciplines as Painting, Wood, Glass, Leather, Fiber, Sculpture, Drawing, Digital, Jewelry, Ceramics and Photography. Although all artists are encouraged to demonstrate in or beside their booths the 6 selected will be featured in parts of our media campaign.
Thank you for sharing your talent with the public making this an exciting and unique art show. Artists with "heavy" demonstrations such as pottery wheels, lathes, glass torching, raku etc may apply for a booth fee waiver. Demonstrating artist application
We invite you to apply – Demonstrating Artists will receive: 
Selected demonstrating artists will;
Have their artist booth fee waived and refunded at the end of the show.
Have an additional free 10×10 adjoining tent space (if needed) for your demonstration area for both Saturday and Sunday.
A demonstration site located in the heart of the Festival in areas that will allow enough space for many viewers but not obstruct traffic flow.
Demonstrators will be allowed additional assistants within their booths
Demonstrating artists will have their heavy demonstrations (such as raku firings) times announced along with the festival public announcements.
Demonstration Artists and demonstration sites will have a presence on the Festival Website in a medium description with a link to their personal website.
Demonstrators who apply early will be showcased in press releases, news articles and other media spots.
Demonstrators will have frequent visits by the Artist Support team offering beverages.
Need a short health break? We will have booth sitters available to offer you a respite.
SJRFA will supply demonstration site signage if needed
Demonstrator Rules: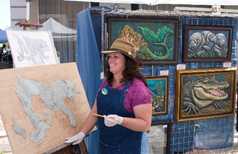 Demonstrating artists must also follow artists rules (with the exception of staffing their own booth) application.
Demonstrators are asked to create an interesting, relaxed and friendly environment
Demonstrators must demonstrate for both Saturday and Sunday and provide SJRFA with a time schedule for "heavy demonstration" activity
Demonstrators must present high standards of artistic skill and creative design
Demonstrators are asked to show a broad range of possibilities that exist in your medium
Demonstrators are asked to offer some type of a safe hands-on experience to the public if possible
Demonstrators may have assistants in their selling booths and apprentices assisting with medium demonstrations
Applying:
Demonstrating artists are selected for the interest and interaction levels of their demonstration.
All demonstrating Artists must complete the standard application on ZAPP plus the application fee of $25. On the application, in the "notes" box please include this additional information.
a) Please describe your demonstration 
b) List materials to be used.
c) List needs such as electricity, water, extra tent space, etc.
d) How much additional space will your demonstration require?
e) Will visitors have any hands-on opportunity? If so, please describe.