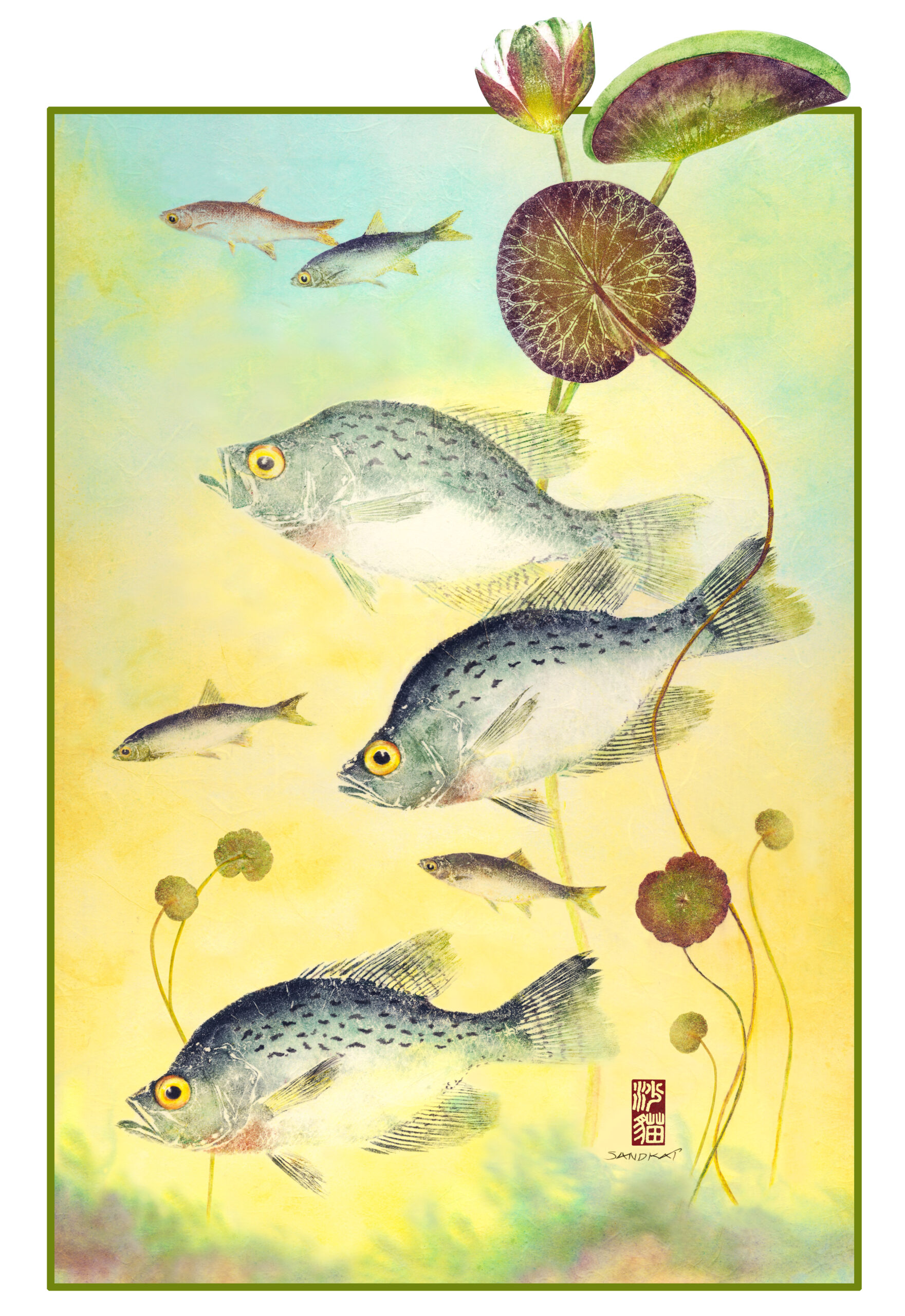 Specks & Wild Shiners by SANDKAT
Medium: Gyotaku
ABOUT THE ART
Gyo (fish) taku (rubbing) was invented in Japan in the early 1800's as a way for sports fishermen to accurately record the exact size and species of fish they had caught. In the direct method of Gyotaku, inks are applied directly to the body of the fish then natural fiber papers are placed on the fish and rubbed. This results in an exact replication of the fish with an amazing amount of detail captured in the fins and scales. A "chop" or printer's mark is added as a signature.
Gyotaku came very naturally to Sandi Jackson & Kathy Howard (known as SandKat). Meeting in the early 80's, they quickly became friends and began vacationing each year with their families in the Florida Keys. Their creative nature and love for the ocean evolved into their unique artwork. They enjoy preparing delicious meals from their families' catches and their art helps record the memories of all their wonderful fishing & diving trips.
Sandi studied art in Orlando, Florida and went on to receive her Bachelors Degree in Graphic Design at the University of Central Florida. Her art interests have always been with animals, nature and the sea.
Kathy started at an early age coloring outside the lines. She worked early with metal sculpture and went on to make a living in Visual Merchandising for store windows and store planning. She received world-wide recognition for one of her designs in store front display.
Sandi & Kathy are members of The Nature Printing Society and currently work from their homes in Deltona and Sanford. SandKat participates in art shows and local events and often teach classes in Gyotaku.
SandKat is a participating artist in a new Co-op gallery in Daytona Beach named Galerie Elan.